So
I try to keep my blog a positive place but recently so much has been getting me down and after crying last night whilst watching girly movies I decided I may need to get things off my chest and have a rant to someone but then I realised I didn't have anyone to talk to so I thought I might blog about everything but then I realised that one of my problems is having no one there. How silly is that? Of course there are so many things that are stressing me out and getting me down recently, I mean I'm jobless, I miss home, I have so much revision to do and I'm hella scared about the fact that I'm about finish my second year of University. On top of all my usual worries such as family stuff and worrying about my body, such as, my legs too fat, my arse too shit and what's that? my hips have more fat on them than a whale does.
But
the one thing that's getting me down the most is having no one to talk to about all my little things that are bothering me, I mean I have friends but here at uni my friends know me as Kloe who lacks emotions. I never talk to them about emotional things because when I have in the past if I've cried or something it kinda gets weird you know like just weird, they have no idea what to do because the rest of the time I'm just being a general dickhead (not in a bad way just as in a I'm not down for all the cute feelings and bullshit kinda way.) As for my friends at home they're always busy doing their own thing and they all live kinda far away so I can't get a hug with a chat. I mean the girls at uni are great but we never hug and like they're all always too busy to have chats with or you have half a one and they just tell you the same old thing especially when it's guys, if you're having guy trouble you get the 'you're too good for him, you can do better' thing. I do have one friend I sometimes talk to about stuff, he's pretty good but we have this kinda friendship where we don't talk about feeling stuff often so when we do I always feel like I'm bugging him haha.
Anyway
I guess what I've realised today is I miss relationships you know, I'm just feeling down about everything and I haven't got anyone to talk to. I'm not bothered about being single, I never really have been I guess the reason it's bugging me so much lately is because all my friends have someone, someones boyfriend is always there and I mean great my friends are in relationships and are happy but it's starting to make me feel pretty shit that I have to go sit alone in my room so they can spread out on the couch or if it's not that I'm alone in the house cause everyones at their boyfriends or I have no one to talk to or do stuff with because no one is about you know. I have no idea how people become single then a week later have a new boyfriend like how?! I've been single almost a year and so far all I've found are guys who just want to see me naked, I can't blame them really but you know why can't we just talk for a while or maybe watch Lord Of The Rings?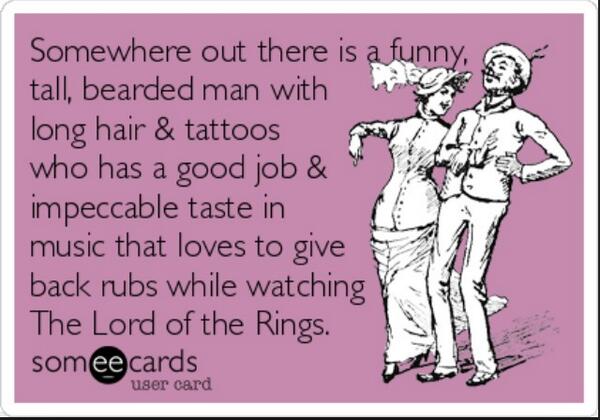 I'm
getting to a stage where I just want someone who'll let me talk to them about anything and give me a hug, but I want a guy hug you know there's just something different about them. I just want to feel like someone cares about me and thinks I'm pretty, I mean don't get me wrong I went out the other night and a few guys gave me the 'oh hey you look amazing, do you want to go outside for a chat' kinda thing (blatantly not actually bothered if you say no cause the next time you see them they're getting off with some lass) and the same friend I mentioned before he often tells me I'm looking amazing or I look cute or some bollocks like that but I know he doesn't mean it and he's just being a friend. I just guess I'm sick of having no one there for me, I don't really care about a relationship / a boyfriend just someone to tell me I'm pretty and that everything's going to be ok and to give me a hug now and again not that would be perfect and if they want to eat pizza and watch movies with me that's great as long they don't judge my Harry Potter pjs!
I
feel much better now just having a little bit of a rant I mean you always do don't you? And I'm sure things will change soon, I mean uni is over in a few weeks and I'll be going back home and I'll be able to spend as much time as I can with my best friends and I have Download festival to look forward to and I won't be surrounded by couples all the time either. I'm just going to have to stick to focusing on revision and trying to forget about all those things getting me down until I feel like I've found the right person to talk to, well I already have that person I guess it's just I don't want to bug them. I mean I guess by not having a boyfriend or a relationship I've got all this extra time on my hands to do work and revise and it means I don't have to make effort with my hair or wear makeup which is always a plus. From now though I'm going to try and feel more positive about things, when people are being dicks I'm just going to let them get on with it, if I can't do something I'll take a break then try again and if everything fails I'm just going to order lots of food and watch shitty movies.
This is what happens when I combine being hormonal, stress and girly movies in one day. I become needy as fuck and that kinda worries me because no one likes needy people. The image above is also becoming my new life motto because you guys all know how much I love pizza.
I also hope no one thinks I'm too whiney or moany or weird and stuff for writing this because lets face it the entire post a load of shit but it's been bugging me and now I feel better. So if you are judging me screw you because I'm feeling better now and might have to demolish a massive pizza for my dinner tonight followed by dessert, judge me all you like. Food is my one true love apart from bearded men of course.

What's been making your life sucky recently? Do you think I'm too whiney?